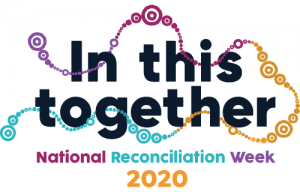 The theme for #NRW2020 – "In This Together" – is resonating in ways that could not have been foreseen when announced by Reconciliation Australia last year.
At AMSI, we are committed to promoting reconciliation, recognising the need for the elimination of entrenched inequality across Australia's education system as a key factor in securing a broad-based future mathematical capability.
AMSI is a proud partner of the BHP Foundation, sharing values of reconciliation in realising the vision of empowering First Nations peoples in pursuing equitable access to quality education in mathematics.
"In Australia, the BHP Foundation are committed to supporting Aboriginal and Torres Strait Islander peoples and organizations in their drive towards effective governance and self-determination; and to enabling young people to fulfill their potential. Our programs in Australia are centred on supporting people to determine their own futures. From girls aspiring to maths careers or Indigenous community organizations delivering best practice decision-making, we seek to empower voice and choice. Within Australia and across the globe, experience and research tells us that Indigenous peoples' ability to be self-determining through exercising choice and voice is the only long-term sustainable solution to addressing issues of inequality. National Reconciliation Week is a time for our nation to rightfully pause, listen and act on the voices of Aboriginal and Torres Strait Islander peoples."
– BHP Foundation statement
The latest AMSI Discipline Profile '2020 State of Mathematical Sciences in Australia' provides a snapshot of mathematics participation, particularly regarding Aboriginal and Torres Strait Islander peoples and communities in rural and regional areas.
The mathematical capability gap between Australia's Indigenous and non-Indigenous population remains wide. 2018 NAPLAN data reveals that 17% of Year 9 Indigenous students did not achieve minimum numeracy standards (with results below band 6), compared to 3.7% of non-Indigenous students. Whilst Indigenous students in major cities and inner-regional areas tend to perform better than those in remote communities, the gap is still significant. In the highest achievement bands percentages of Indigenous students are very low with only 0.9% of Indigenous students reaching the highest achievement band 10 compared to 9.4% of non-Indigenous students. [Read more]
AMSI is committed to listening to and learning from Aboriginal and Torres Strait Islander people towards the goals of autonomy, choice, equity and self-determination in the mathematical sciences and we celebrate the vast Indigenous mathematical knowledge that has existed in this nation for tens of thousands of years.
National Reconciliation Week 2020 runs from 27 May – 3 June, celebrated through virtual events and online conversation. Find out more and get involved at reconciliation.org.au.