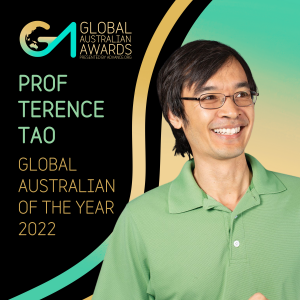 The Australian Mathematical Sciences Institute (AMSI) congratulates Fields Medallist and AMSI Research Committee Member, Professor Terence Tao, on being awarded Global Australian of the Year.
Professor Tao was recognised for his contribution to mathematics and efforts to turn complex maths into a simple tool for everyday problem-solving. He is a mathematician at the University of California, Los Angeles (UCLA), where he continues to attract top students from all over the world, eager to study with him.
Presented by Advance Global Australia, the Global Australian of the Year awards recognise inspiring global Australians, including Australians living and working overseas, Australians who have built their career overseas in the past, international alumni of Australian universities, and recent migrants to Australia, who are innovating in their field and leading crucial advancements on the global stage.
Today, Professor Tao focuses much of his energies on developing the next generation of mathematicians, both in his classes at UCLA and also through his engagement with the broader public. In January 2022, he teamed up with global learning platform MasterClass to launch their first series on mathematical thinking, in which he shares his approach to mathematical inquiry and shows viewers how they can apply maths in everyday situations, offering suggestions for enjoying the process of learning.
Professor Tao is a long-term member of AMSI's Research Committee. AMSI's first director, Emeritus Professor Garth Gaudry, was Professor Tao's mentor while he was as a student at Flinders University in South Australia, and Professor Tao continues to be a strong advocate for the Australian mathematical sciences community abroad.
AMSI extends congratulations all the inspiring Global Australians honoured in this year's awards.
The full list of 2022 award winners is available online here.