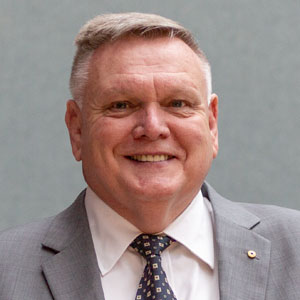 Gary Hogan AO
Qualifications: HH, MS, AO
Position: Director, APR.Intern
Program: APR.Intern
Phone: 03 903 55749
Email: g.hogan@aprintern.org.au
Biography
Gary joined the APR.Intern team in 2018 as Director and is responsible for leading stakeholder engagement and corporate relations with government agencies, universities, peak bodies and industry partners.
A graduate of the Royal Military College, Duntroon, Gary spent more than 30 years in the Australian Defence Force – most notably as Director-General Scientific and Technical Analysis, and as Head of Military Intelligence, retiring with the rank of Brigadier-General. He spent two years on faculty at the US Industrial College of the Armed Forces, in Washington DC.
Gary has held executive and advisory positions at KPMG, RMIT, UNSW and the Victorian Government. He is currently an Enterprise Professor at the University of Melbourne. Gary holds a First Class Honours degree in History (UNSW), a Master of Strategic Studies (UNSW) and is fluent in Mandarin, Vietnamese and Bahasa Indonesia, having served ten years in diplomatic posts, variously in Port Moresby, Hanoi and Jakarta.
A member of the Order of Australia, Gary was also awarded the Conspicuous Service Cross for operations in the Middle East, as well as foreign government decorations from the USA (Legion of Merit) and the Republic of Indonesia (Grand Meritorious Military Order).
Gary is passionately committed to the APR.Intern Program's ambition to transform the futures and career trajectories of many PhDs across Australia, not to mention the innovation dividends that will be delivered to the Program's industry partners.