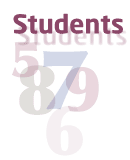 Back-to-back stem-and-leaf plots
These are used to compare two similar sets of numerical data such as:
two tests with the same total marks given to the same class
the heights of boys and girls in a group of students
the daily maximum temperatures for two separate months
the ages of people attending two theatre productions.
Example 2
A class of 25 students sit for two Mathematics tests, each out of 100. Their results are recorded in the following back-to-back stem-and-leaf plot.
| Test 1 | | Test 2 | |
| --- | --- | --- | --- |
| 5 5 | 4 | | |
| 9 6 6 4 | 5 | 5 6 6 | |
| 9 8 8 7 6 5 5 4 3 3 | 6 | 5 7 | |
| 8 8 5 2 2 2 1 | 7 | 5 9 | |
| 1 | 8 | 0 0 4 4 5 5 5 6 7 9 9 | |
| 0 | 9 | 0 0 1 3 5 7 7 | 8\(\mid\)4 represents 84 |
| Question | Solution |
| --- | --- |
| How many students scored 70 or more for each test? | Nine students in test 1 and 20 students in test 2 scored 70 or more. |
| How many students scored less than 50 for each test? | Two students in test 1 and zero in test 2 scored 50 or less. |